With years of Industrial Experience & Expertise, Sanctum Work Wear Pvt.Ltd. has scaled industrial heights. We are leading manufacturers and exporters of standard and custom made work wear and industrial clothing for almost every type of organization all across the globe. To cater to the needs of Industrial Clothing and Protective Clothing, Sanctum Work Wear Pvt.Ltd. employed highly qualified staff to deliver quickly and efficiently, full work wear range of garments. We have made in-depth studies of the hazardous working conditions in various industries and have evaluated the requirement of protective clothing in these industries. We have designed appropriate clothings to suit each end use.

Overthe years, industrial work wear users have become increasingly aware of the need for safer industrial work wear and even the authorities are trying their level best to maximize the quality of industrial work wear by implementing an effective quality management programme. In an endeavour to make quality work wear, SANCTUM WORK WEAR PVT LTD, an ISO-9001: 2008, was established in the year 2000. The progressive manufacturer has carved a niche for itself in today's competitive scenario by offering unmatched product line of industrial work wear. Today, the company is the most preferred destination for procuring unmatched Industrial Safety Work wears.
What We Offer
We offer a wide range of industrial safety wears. our range of products include:

• Industrial Clothing
• Protective Clothing
• Safety Industrial Wears
• Safety Shoes
• Helmets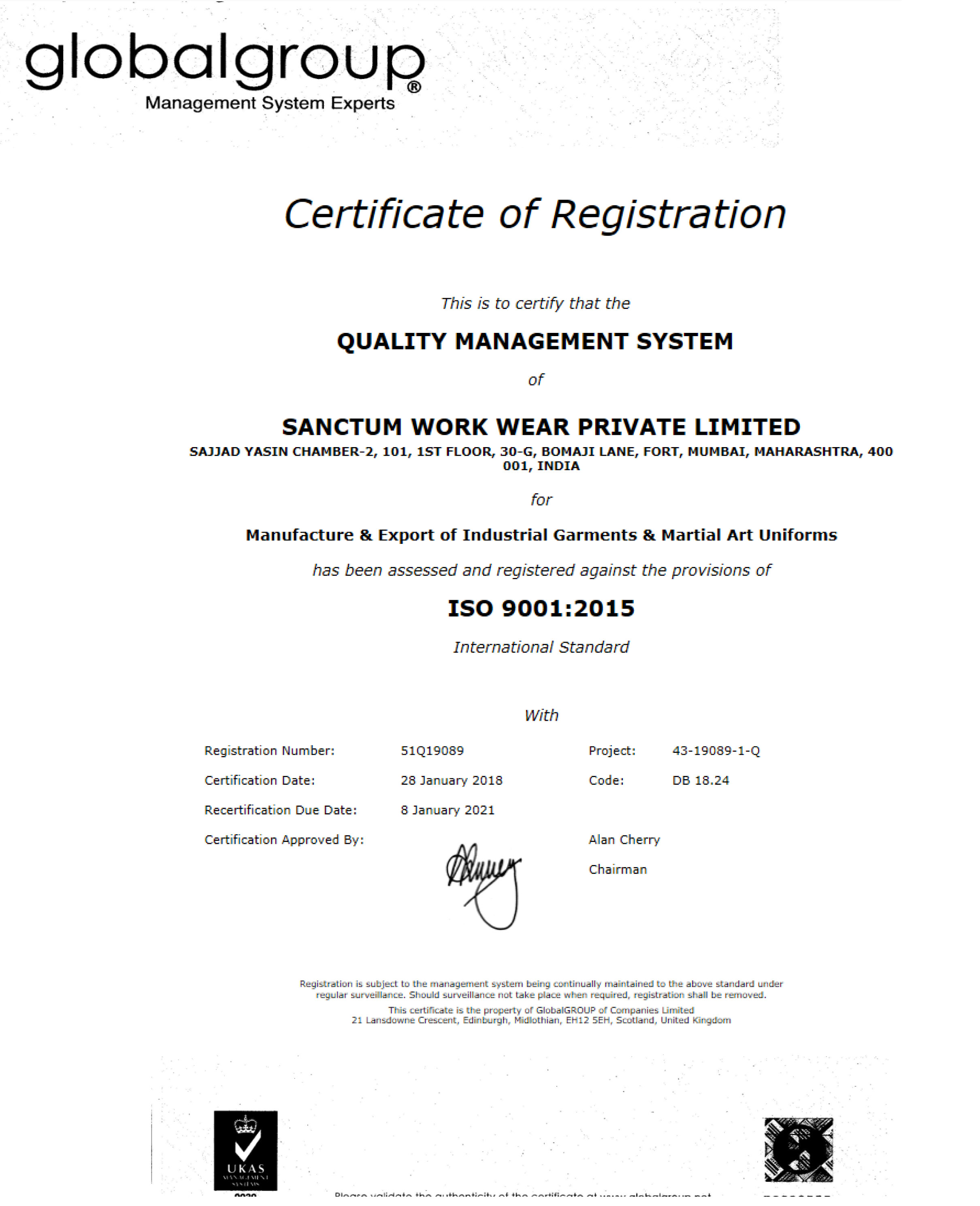 Quality Control
Stringent quality control is maintained at every stage, covering the entire activities of selection of yarn, fabric weaving, dyeing and processing to manufacturing of the final product. Materials of the highest quality are used and each stage of manufacturing is constantly monitored under the supervision of experts to produce clothes of very high workmanship.
The work wear is designed in accordance to the stringent European norms and our commitment to maintain quality is always total.

Manufacturing Unit
We have state of the art manufacturing unit. Our unit is well-equipped with all the latest design, cutting, sewing and finishing equipment, totally flexible to produce the best quality clothings. In the manufacturing arena, we have the added advantage of supervising all activities from manufacturing to final shipment. Our main aim is to cut costs and provide very competitive prices to the utmost satisfaction of our valuable customers.

Who We Are

We are professionally managed by a group of professionals having in-depth expertise in this discipline. Our products are manufactured as per internationally accepted norms and practices that aid in facilitating smooth and efficient production. Every product manufactured at SANCTUM WORK WEAR PVT LTD, matches perfectly with Indian climatic conditions and is capable of rendering years of capable services to our valued clients.

Our Quality

Strictly committed to deliver the best range of products, we, at SANCTUM WORK WEAR PVT LTD, follow strict quality control procedures at every level of our process to ensure flawless production. All our products are manufactured by employing the finest quality of raw material, which is sourced from the reputed manufacturer oft he market. We have a well-equipped R & D wing, which is powered with innovative workforce and modern technology to innovate most advance range of products that suits Indian climatic conditions. Our commitment towards quality and client satisfaction provides us an additional edge over the other players in similar arena.

Our Features
Timely Delivery

We know the importance of time in today's business scenario. Thus, a proper inventory control system is maintained that enable us to ensure smooth and efficient flow of goods to the market. We are capable offeeding bulk demand in the shortest possible time frame.

Infrastructure

We possess state-of-the-art-technology and hi-tech machines, which yields excellent results and ensure efficacy and quality of products. Our company has its own sophisticated plant to manufacture high quality products with an ever-increasing annual turnover. Our Research and Development department is making indefatigable efforts to meet the expectations of our clients by engineering innovative products. We have in-house testing facilities to ensure that best of materials go into producing products with expected durability.

Why Us ?
• Reputation based on quality, reliability, integrity & complete understanding of the market dynamics.
• Prompt delivery and customer satisfaction is our top priority, a sound infrastructure armoured with advanced and innovative technology.
• Meeting the exacting requirements of the customers and standards of the industry.
• Top-notch quality products manufactured following stringent quality checks.
• Competitive prices - the best price offered in the market, Enhancement of products both in quality and innovation

Range Includes
• 100% Cotton Coveralls (Boiler Suit)
• PolyCot Coveralls
• Fire Retardant Coveralls
• Inherent Flame Retardant Coveralls
• Martial Art Uniforms
• Pharmaceutical Lab Coats
• Pharma Boiler Suit
• Industrial Uniforms
• Non-Woven Coveralls, shoe cover, head cap, Hand sleeves

Request Quote